RUPAUL'S DRAGMANIA
ル・ポール好きに送る
新宿二丁目発クラブパーティ
「ル・ポールドラァグマニア」!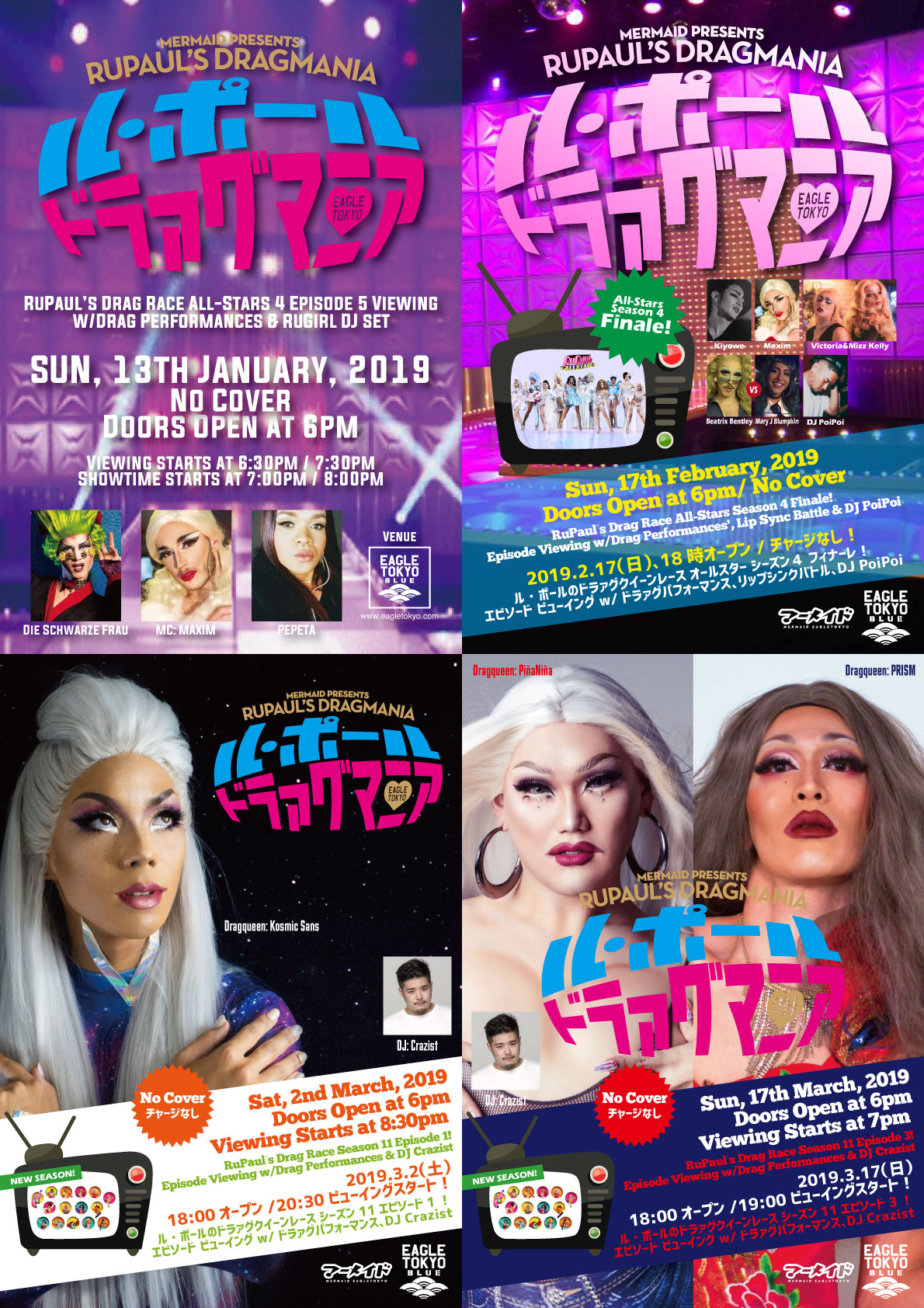 エミー賞受賞が記憶に新しい米テレビ番組の「ル・ポールのドラァグレース」。ドラァグクイーン達が数々の難題に挑戦し、時には笑い、涙し、ののしり合い、助け合い、脱落し、そして成長しながら次世代のドラァグスーパースターを目指します。日本でもNetflixで全エピソードが放送開始されるなど、大変な盛り上がりを見せており、今最も熱いLGBTコンテンツと言えるでしょう。

「ル・ポールドラァグマニア」では、この「ル・ポールのドラァグレース」最新エピソードを鑑賞し、ドラァグクイーンや番組恒例の「リップシンクバトル」などのショー、DJセットを楽しむクラブイベントです。お気に入りのクイーンを決めてみんなで応援しよう!

不定期開催、18歳以上ならどなたでも入場できます。
A party for all lovers of drag and RuPaul's Drag Race, in the heart of Shinjuku No-Chome, Tokyo's Gay Capital!

RuPaul's Drag Race is the Emmy-winning competition TV series that joins legendary queen RuPaul on her search for America's Next Drag Superstar! The show has launched the careers of a new generation of drag superstars. We follow them through a number of challenges where we see them laugh, cry, fight, work together and eventually sashay away one by one until we crown a champion. It's definitely the hottest LGBT content right now, but is enjoyed by absolutely everyone.

RUPAUL'S DRAGMANIA is a club event where you can watch the latest episode of RuPaul's Drag Race with your friends and a crowd of fun-loving fans. You can also enjoy performances from local drag performers, great DJs, special themed cocktails, and even enter a lip sync battle of your own! Decide your favorite queen and come along to cheer her on!

For event dates, check this site. All adults are welcome at this event.

NEXT PARTY
2019/5/31(日)
Fri, May 31st, 2019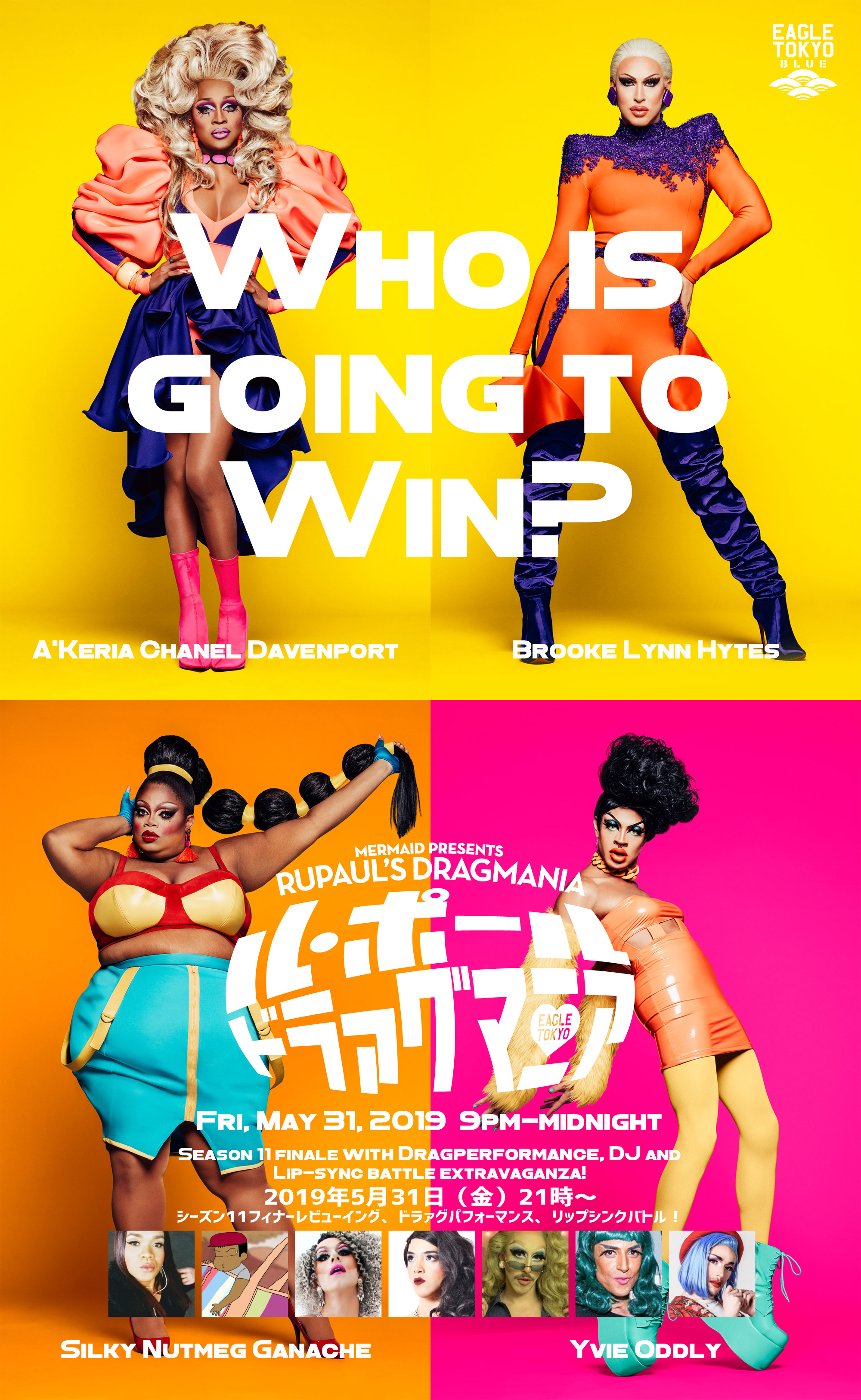 ル・ポールドラァグマニア「Who is going to Win?/Season 11」優勝者予想クイズ!開催中!投票はこちらから!
RuPaul's DRAGMANIA "Who is going to Win? Season 11 Winner Prediction Quiz! Vote here for your winner!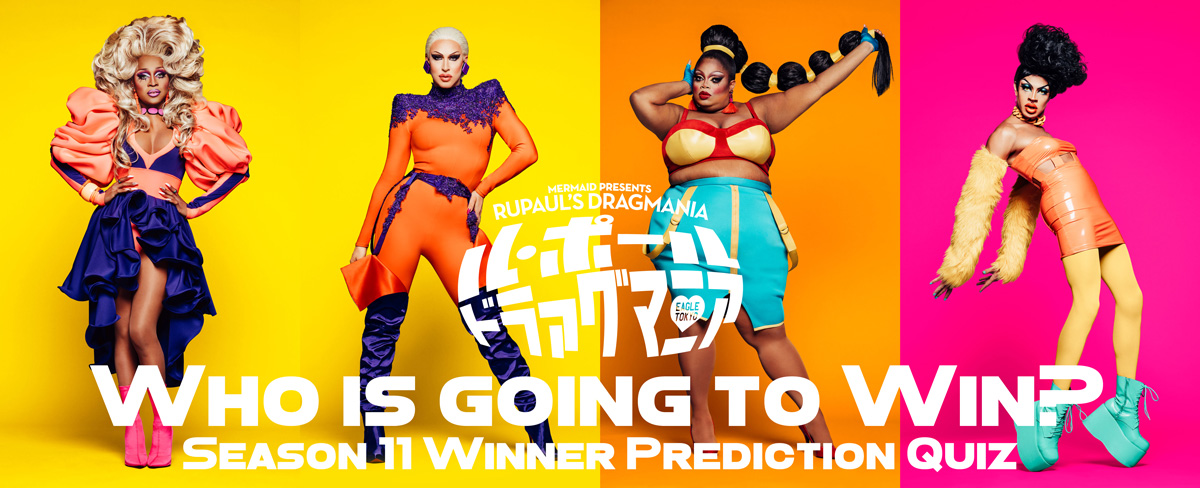 ル・ポールのドラァグレース シーズン11がついにフィナーレへ。

いよいよトップ4が確定!。そして、フィナーレでは恒例となったトップ4によるリップシンクファイナルバトルが開催される見込み!

DRAGMANIAも5/31(金)EAGLE TOKYO BLUEにて開催決定!
21時~22時、フィナーレビューイング(英語字幕のみ)、22時からは、ドラァグマニア一押しクイーン4人によるリップシンクバトルコンペティション。
もちろんDJによるスペシャルセットもあります。DRAGMANIAが最も盛り上がる夜。ぜひお越しください!


どなたでもご入場いただけます。

*場所:EAGLE TOKYO BLUE
*チャージ:0円(ドリンク1杯お買い求めください。)
*18時オープン21時まではSUPER HAPPY HOUR
*エピソードビューイングは21:00スタート
*ドラァグパフォーマンスは22:00スタート
*Drag Queen: PEPETA
*Battle Queens: VERA vs BEATRIX BENTLEY vs GOMA DANGO vs MARY J. BLUMPKI
*DJ:ROBOMI
*MC:Maxim
*ドレスコード:ベストドラァグ(強制ではありません)

RuPaul's Drag Race Season 11 is finally reaching its epic finale.

Our Final 4 has been announced (no spoilers yet, for those following RPDR on Netflix Japan) and they will be taking part in the world's most important lip-sync battle competition to find out who will be crowned America's Next Drag Superstar!

This time, we will be airing the episode at EAGLE TOKYO BLUE on a Friday night! The episode will be shown from 9pm-10pm, complete with English subtitles.

From 10pm, we will have our very own lip-sync battle competition featuring 4 of our favorite DRAGMANIA queens! Be sure to stay and check this out. We will also have a DJ playing the classics to help you kick your Friday nights off right.

All are welcome! See ya there.

*Venue: EAGLE TOKYO BLUE
*Cover Charge: ¥0 (1 drink minimum at entrance)
*Episode Screening starts at 21:00
*Drag Performances start from 22:00
*Drag Queen: PEPETA
*Battle Queens: VERA vs BEATRIX BENTLEY vs GOMA DANGO vs MARY J. BLUMPKI
*DJ Set by ROBOMI
*Hosts Maxim
*Dress Code: Best Drag (not compulsory)